A History of Scotland's Landscapes by Fiona Watson and Piers Dixon (Historic Environment Scotland)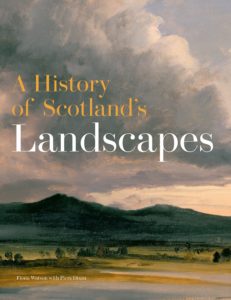 It is easy to overlook how much of our history is preserved all around us – the way the narrative of bygone days has been inscribed in fields, forests, hills and mountains, roads, railways, canals, lochs, buildings and settlements. Indeed, footprints of the past are to be found almost everywhere.
These evocative spaces provide unique evidence for the way this land and its wealth of resources has been lived in, worked on, ruined, abandoned, restored and celebrated – offering valuable clues that bring the past to life far more effectively than any written history.
A History of Scotland's Landscapes explores the many ways that we have used, adapted and altered our environment over thousands of years. Full of maps, photographs and drawings, it offers a remarkable new perspective on Scotland – a unique guide to tracing memories, events and meanings in the forms and patterns of our surroundings.