Duncan Gillies' timeless collection of Gaelic and English short stories, Crann-Fìge/ Fig Tree, has won the 2022 Highland Book Prize.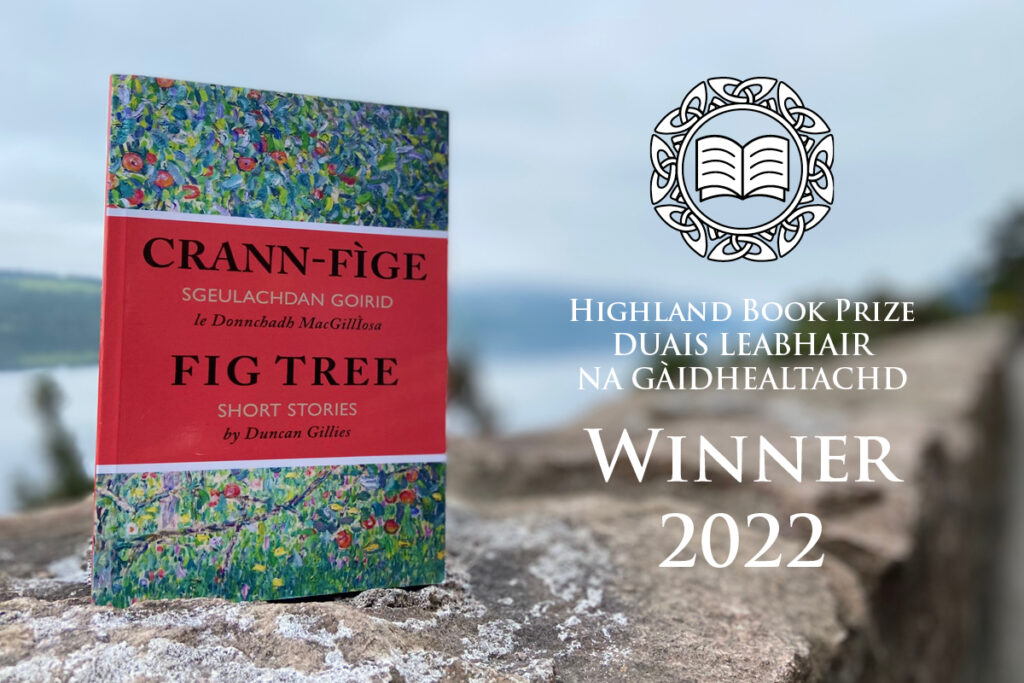 Presented by the Highland Society of London, the winning title was announced at an online award ceremony hosted by Moniack Mhor, Scotland's Creative Writing Centre, from the hills above Loch Ness.
The audience enjoyed readings and discussion with all four of the shortlisted authors: Ali Smith, for Companion Piece (Hamish Hamilton); Tony Davidson, for Confessions of a Highland Art Dealer (Woodwose Books); Duncan Gillies, for Crann-Fìge/ Fig Tree (Acair Books), and Cynthia Rogerson, for WAH! Things I Never Told My Mother (Sandstone Press).
Crann-Fìge/ Fig Tree, published by Acair Books, was described by a member of the volunteer reading panel as "a book that explores memory, legacy, and the value of culture and language. The stories are lucid and more often than not offer an unshowy luminosity."
The judging panel shared their comments on the winning title:
Peter Mackay said, "Donnchadh MacGillÌosa (Duncan Gillies) has long been one of the best short story writers in Gaelic. These stories show great psychological perspicuity, with a wonderfully light touch, and great understanding of what is important, how and why, in human lives, and especially how things might unexpectedly linger – and words gather individual meaning – over the course of years and decades. Crann-Fìge is a very strong collection, and a very deserving winner."
Mark Wringe said, "Donnchadh MacGillÌosa (Duncan Gillies) has been known to Gaelic readers for many years as an exceptional writer, in whose hands the modern short story is reconstituted with colours and tones recognisable from an older narrative tradition, and yet defies categorisation. His stories are witty, deft and utterly distinctive. With his latest collection, in Gaelic with superbly artful translations, readers with no Gaelic can now immerse themselves in a Gaelic world when it was still a whole and complete entity. The melancholy is in knowing it is like that no more. The joy is in witnessing a fig-tree burst from the Lewis soil."
Kapka Kassabova said, "These intimate parable-like stories embody what it means to belong in a place. They speak of love and extinction in the same breath. They brim with the truth and poigancy of a vanishing world – one where it is still possible to have an interior life that is at one with our environment."
For further information about the Highland Book Prize and the winning title, please contact highlandbookprize@moniackmhor.org.uk