The winner of the Highland Book Prize for a book written in 2018 is:
Now We Shall Be Entirely Free
by Andrew Miller (Sceptre)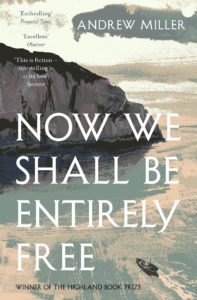 One rainswept winter's night in 1809, an unconscious man is carried into a house in Somerset. He is Captain John Lacroix, home from Britain's disastrous campaign against Napoleon's forces in Spain. Gradually Lacroix recovers his health, but not his peace of mind, so when the command comes to return to his regiment, he lights out instead for the Hebrides, unaware that a vicious English corporal and a Spanish officer are secretly on his trail. In luminous prose, Miller portrays a man shattered by what he has witnessed, on a journey that leads to unexpected friendships, even to love. But as the short northern summer reaches its zenith, the shadow of the enemy creeps ever closer. Freedom, for John Lacroix, will come at a high price.